AIDA
by Giuseppe Verdi
(1813-1901)
Libretto by Antonio Ghislanzoni
A new production
in memory of our founder
Marie Cantoni
May 12, 13, 19, & 20, 2018, at 3 PM
FREE Sneak-Peek Performance - May 8, 2018, at 7:30 PM

Conducted by Gregory Ortega
Staged by Linda Lehr
Performed in Italian with English supertitles

This production is made possible, in part,
by gifts from the Donald C. Brace Foundation
and the Liu Foundation.
---
---
Praise for Aida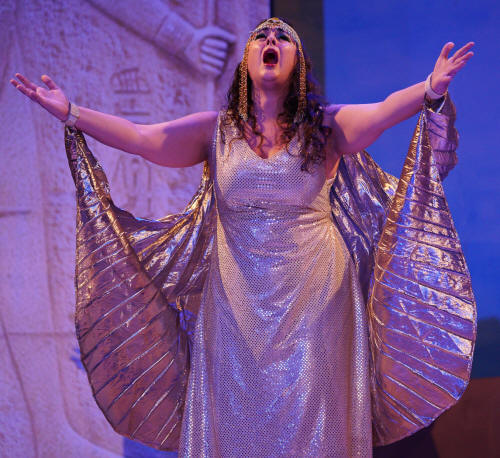 "Another sterling performance
with thunderous applause."
Cliff Kasden, Home Reporter

"A knockout production."
Steven Pisano, Feast of Music

"Here's to the queen (English for regina)
of opera in the borough of kings!"
Richard Sasanow, Broadway World

"This incredible production took us
'out of the commonplace and into the rare.'"
Nino Pantano, Brooklyn Discovery
---
The Cast
Aida, an Ethiopian slave - Carami Hilaire (5/12 & 20), Dilara Unsal (5/13 & 19)
Radames, an Egyptian warrior - José Heredia (5/12 & 20),Paolo Buffagni (5/13 & 19)
Amneris, the Egyptian King's daughter - Lara Tillotson (5/12 & 20), Erica Koehring (5/13 & 19)
Amonasro, Aida's father - Peter Hakjoon Kim (5/12 & 20), David Robinson (5/13 & 19)
The King of Egypt - Peter Ludwig (5/12 & 13), David Tillistrand (5/19 & 20)
Ramfis, the High Priest - Hyong Sik Jo (5/12 & 19), Antoine Hodge (5/13 & 20)
Messenger - Justin Scott Randolph (5/12 & 20), Lindell O. Carter (5/13 & 19)
High Priestess - Aida Carducci (5/12 & 20), Christa Hylton (5/13 & 19)

Dancers: Wendy Chu, Kelly Vaghenas, Kirsten Reynolds, Tommy Kirkland, Sean Murphy

May 8 Sneak-Peek Performance:
Aida: Kimberly Lloyd; Radames: Lindell O. Carter; Amneris: Hannah Kramer; Amonasro: David Robinson;
King: David Tillistrand; Ramfis: Hyong Sik Jo; Messenger: Justin Scott Randolph; High Priestess: Arina Ayzen

Ensemble
Chandry Abreu, David Asch, Adwoa Asiedu, Susanna Booth, Monica Camafreita, Justine D'Souza, Kirsti Esch, Robert Garner, Thomas Geib, Catherine Greco, Bria Langer, Eric Lin, Wayne Olsen, Jamie Ratcliffe, Jose Ruiz, Elena Sandella, Theodore Shulman, Brian Sternemann, Ken Young

---
The Story
Aida is set in ancient Egypt.
Act I
Scene 1. The King's Palace at Memphis. The High Priest Ramfis has heard that Ethiopia is threatening Egypt's borders, and hints that the goddess Isis has chosen Radames to command the Egyptian forces. Radames is thrilled at the idea that he might lead the great army and return triumphant – to his beloved Aida ("Celeste Aida"). Amneris, the King's daughter, arrives and notices that Radames is ecstatic. He explains that he is anticipating the glory of leading the army. When Amneris flirtatiously hints that some more tender feeling might be affecting him, he wonders if she has found out his secret love for Aida, her own slave, and she jealously wonders if he is in love with someone else. Aida enters, and Amneris, noticing Radames's reaction, suspects that Aida is her rival. Amneris asks Aida why she is weeping. Aida replies that she is upset about the coming war between her country and Egypt. Secretly, Aida's tears are really for her hopeless love. The King gathers his priests and ministers to hear a messenger report that the Ethiopian army, led by its king, Amonasro – who, unbeknownst to them, is Aida's father – is marching on Thebes. The King announces that Isis has designated Radames to lead his army. Radames and Amneris are thrilled, but Aida is torn between her love for her father and the enemy commander. Everyone – including Aida – bids Radames to return victorious. Left alone, Aida reflects on the dreadful irony of wishing Radames to return victorious when he would be fighting against her father – who is leading this attack to rescue Aida ("Ritorna vincitor"). She prays to the gods to release her.
Scene 2. The Temple of Vulcan. The High Priestess leads prayers to the god Ptah. Radames is invested as the commander of the army and given a sacred sword.
Act II
Scene 1. Amneris's apartments. Amneris rapturously prepares for her reunion with Radames, but she still suspects Aida of being her rival. Pretending to be sympathetic to Aida's sorrow at Ethiopia's defeat, she tests Aida by telling her that Radames is dead. Aida's devastated reaction proves Amneris's suspicion. Amneris reveals that Radames is alive, and that she is Aida's rival. Aida begs for mercy as Amneris taunts her. Amneris orders Aida to accompany her to the triumphal festivities, and Aida prays to the gods.
Scene 2. An avenue in Thebes. A crowd has gathered for the triumphal procession celebrating Egypt's victory. The King promises Radames anything he wishes. Aida spots her father among the captives and rushes to him, but he whispers to her not to betray his identity. Questioned by the King, Amonasro pretends to be a mere soldier. He and Aida beg for mercy for the captives, but the priests are opposed. Radames reminds the King of his promise and asks that the Ethiopian captives be freed. Over Ramfis's objection, the King grants his wish. He then offers Radames his daughter's hand. Amneris and the crowd exult, Aida and Radames despair, and Amonasro plots vengeance.
Act III
Ramfis leads Amneris to the temple of Isis on the banks of the Nile to have her marriage blessed. Aida awaits Radames and plans to drown herself if he leaves her. She will never see her homeland again ("O patria mia"). Amonasro arrives. He knows about her secret love and promises that she can have everything she desires – all she has to do is get Radames to tell her how Egypt intends to invade Ethiopia. She refuses. He tells her that she will destroy her country. He ignores her pleas for mercy and disowns her as a slave of the Pharaohs. She begins to falter. Amonasro hides as Radames arrives. Radames assures Aida of his love and promises that, once the invasion of Ethiopia is over, he'll be able to marry her. She persuades him to flee with her to Ethiopia instead. Then she asks him what route they should take to avoid the Egyptian army. As soon as he tells her, Amonasro appears, revealing that he is Aida's father and Ethiopia's king. Radames is thunderstruck. As Amonasro tries to drag him off, Amneris and Ramfis arrive. Amonasro tries to stab Amneris, but Radames intervenes. Amonasro and Aida flee as Radames surrenders.
Act IV
Scene 1. A hall in the King's palace. Amneris bitterly reflects that Aida has escaped while Radames, whom she still loves passionately, is to stand trial for treason. When he arrives, she offers to save him if he gives up Aida, who, he learns to his joy, has escaped to safety. He refuses her offer and is led away to the judgment chamber. Amneris, despairing, hears the priests accuse Radames, who refuses to answer. They sentence him to be entombed alive. Amneris begs them for mercy, but they are adamant. She curses them.
Scene 2. A crypt. Radames, sealed in his tomb, is astonished to find his beloved Aida there. She has come to die with him. As they share a rapturous farewell to earthly life, and the priests intone a mournful hymn, Amneris prays for Radames.
© 2018 Linda Cantoni