CAVALLERIA RUSTICANA
by Pietro Mascagni
(1863-1945)
Libretto by Giovanni Targioni-Tozzetti and Guido Menasci
Based on the short story by Giovanni Verga
March 2, 3, 9, & 10, 2024, at 3 PM
Free Performance with piano: February 27, 2024, at 7 PM
Orchestra conducted by Scott Jackson Wiley
Staged by Sabrina Palladino
Performed in Italian with English supertitles
---
The Cast
TBA
Gemma Bellincioni as Santuzza, and her husband, Roberto Stagno, as Turiddu,
in the 1890 premiere of Cavalleria Rusticana
Santuzza

, a village girl
Soprano

Turiddu

, a young soldier
Tenor

Alfio

, the village teamster
Baritone

Lola

, his wife
Mezzo-Soprano

Mamma Lucia

, Turiddu's mother
Contralto
Villagers, priest.
---
A square in a small village in Sicily, late 19th Century
At dawn on Easter Sunday, Turiddu can be heard serenading his mistress, Lola ("O Lola, ch'hai di latti la camisa"). The villagers enter the square, celebrating the beautiful spring morning. After they leave, Santuzza appears, looking for Turiddu at the tavern of his mother, Mamma Lucia. Mamma Lucia reluctantly tells her that Turiddu has gone to Francofonte to buy wine, but Santuzza replies that he was seen in the village late last night. Mamma Lucia, surprised that her son has not yet returned home, invites Santuzza into her house. Santuzza declines, reminding Mamma Lucia that she has been excommunicated. Mamma Lucia asks what she knows of her son, but before Santuzza can say more than that her heart is breaking, the villagers assemble in the square to greet Alfio, the village carter, who has just returned. He loves his work, but his loves his wife, Lola, even more, and confidently expects that she is waiting at home for him ("Il cavallo scalpita").
Mamma Lucia greets him, and when he asks for her special wine, she tells him that Turiddu has gone to get some. Alfio replies, however, that he saw Turiddu near his house early that morning. Mamma Lucia is again surprised, but Santuzza warns her to keep quiet. Alfio tells everyone to go into church as a choir sings a Regina Coeli. Santuzza and Mamma Lucia pray with the villagers ("Inneggiamo"), who file into the church for Easter services.
Alone with Mamma Lucia, Santuzza tells her tragic story ("Voi lo sapete, o mamma"): Turiddu had been in love with Lola, but he went into the army, and by the time he returned, she had married Alfio. Turiddu took up with Santuzza on the rebound, and Santuzza fell deeply in love with him. But Lola was jealous and seduced Turiddu away from her, leaving Santuzza without love and without honor. She begs Mamma Lucia to pray for her in church while she tries to get Turiddu to come back to her.
Turiddu arrives, none too happy to see Santuzza. He tries to evade her attempts to speak to him, and when she tells him that he had been seen that morning near Lola's house, he accuses her of spying on him. But she replies that she heard it from Alfio's own lips. Turiddu becomes furious, asking her if she wants him to be killed and pushing her away from him. She accuses him of being in love with Lola, which he denies. He derides her jealousy as she declares her love for him ("Bada Santuzza, schiavo non sono").
Their argument is interrupted by the arrival of Lola, who idly strolls by singing a love ditty ("Fior di giaggiolo"). She coolly asks Turiddu if he has seen Alfio and sarcastically asks Santuzza whether she is going to Mass. When Santuzza says that Mass is for those who have not sinned, Lola gives thanks to God, infuriating Santuzza. Turiddu, embarrassed, wants to leave, but Lola, with heavy irony, urges him to stay. Santuzza firmly does likewise, and Lola ambles off into church. Santuzza urgently pleads with Turiddu to stay and listen to her ("No, no, Turiddu, rimani ancora"), but he again accuses her of spying on him and orders her to leave. Finally, she threatens him, and when he says that he doesn't give a damn about her anger, she curses him, and he stalks away into the church.
Alfio now arrives, and Santuzza takes this opportunity to tell him all about Lola and Turiddu. But when he swears vengeance on them, she is suddenly contrite — and it is too late for that.
The Mass having ended, the villagers file out, cheerfully looking forward to going home. Turiddu urges Lola to stay, but she wants to go home, as she has not yet seen her husband. Turiddu tells her to stay, as Alfio will soon be there anyway. She agrees, and Turiddu leads everyone in a rousing drinking song and a toast to Lola ("Viva il vino spumeggiante").
Alfio arrives, with a grim greeting to all. Turiddu welcomes him and offers him some wine, but Alfio declines, as it might turn into poison in his stomach. Turiddu pretends not to care; Lola, beside herself with fright, is led away by the village women. A tense standoff between Turiddu and Alfio ensues, during which Turiddu challenges Alfio by biting his ear.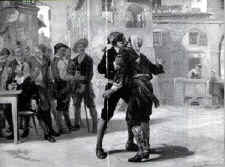 Turiddu, suddenly remorseful, admits that he has done wrong, especially to Santuzza, who will be abandoned if he dies. Then, passionately, he swears he will plant his dagger in Alfio's heart. Alfio coldly tells him that he will be waiting for him behind the orchard, and leaves.
Alone, Turiddu calls for his mother and tells her that the wine has made him giddy and that he is going out. But he first wants her blessing, just as when he went away into the army, and, if he does not return, he wants her to be a mother to Santuzza, whom he had promised to marry. Mamma Lucia, troubled, does not understand; Turiddu blames it on the wine and asks her to pray for him. Then he kisses her goodbye and rushes off. Mamma Lucia, thoroughly frightened, calls out to him. Santuzza enters and the two women embrace. In the distance, a woman cries out that Turiddu has been killed. The villagers rush in, crying, as Santuzza and Mamma Lucia fall senseless.
© 1998 Linda Cantoni