L'Elisir d'Amore

(The Elixir of Love)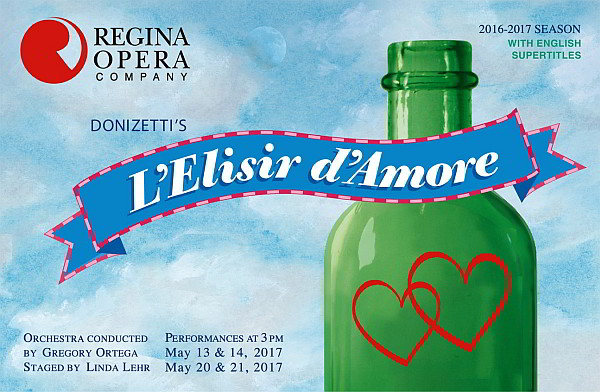 by Gaetano Donizetti
(1797-1848)
Libretto by Felice Romani,
after a libretto by Eugène Scribe
May 13, 14, 20, and 21, 2017, at 3 PM
Conducted by Gregory Ortega
Directed by Linda Lehr

"The cast [of L'Elisir d'Amore], as always, is wonderfully talented with an unbeatable orchestra and outstanding creative team."
Cliff Kasden, Brooklyn Home Reporter

"[L'Elisir d'Amore was] an afternoon of splendid opera at Brooklyn's 'crown jewel,' The Regina Opera."
Nino Pantano, Brooklyn Discovery
---
The Cast
Adina, a wealthy young lady - Sarah Moulton Faux (May 13 & 21), Hannah Stone (May 14 & 20)

Nemorino, a young peasant - Heejae Kim (May 13 & 21), Ivan Rivera (May 14 & 20)

Belcore, a Sergeant - Jonathan Hare (May 13 & 21), Peter Hakjoon Kim (May 14 & 20)

Dulcamara, a traveling "doctor" - Geeseop Kim (May 13 & 21), Luis Alvarado (May 14 & 20)

Giannetta, a peasant girl - Melissa Serluco (May 13 & 21), Sharon Cheng (May 14 & 20)

Dulcamara's Assistant - Sarah Barringer
---
May 10 Sneak Peek Performance Cast
Adina: Melanie Leinbach*; Nemorino: Aaron Halevy*;
Belcore: Jonathan Hare; Dulcamara: Geeseop Kim;
Giannetta: Melissa Serluco; Dulcamara's Assistant: Sarah Barringer

*cover
---
The Story
L'Elisir d'amore takes place in an Italian village in the early 19th Century.
Act I
Adina's farm
Adina is sitting beneath a tree on her farm, reading a book. Her friend Giannetta and a group of peasants are resting nearby. Nemorino watches Adina from a distance, lamenting that he has nothing but love to offer her ("Quanto è bella, quanto è cara"). The peasants ask Adina to read to them, and she reads them the story of how Tristan won Isolde by drinking a magic love potion.
Sergeant Belcore swaggers in with his troop. Adina laughs at his braggadocio, but when he presses her to marry him, she promises to think it over. She invites the whole troop to her house for some wine, and the peasants return to their work. Nemorino intercepts Adina on her way to the house and awkwardly declares his love for her. She tells him that he is nice fellow, but that she is not inclined to fall in love with anyone.
In the village square, the populace eagerly greet the traveling "Doctor" Dulcamara, who proclaims the virtues of his patent cure-all ("Udite, udite o rustici"). Nemorino asks Dulcamara if he has the Elixir of Love described in Adina's book. Dulcamara gives Nemorino a bottle of wine, telling him that it is the magical elixir. Nemorino gulps it down and becomes tipsy. When Adina enters, Nemorino, certain that the potion will work, pretends to ignore her. To punish him, Adina flirts with Belcore, who tells her that he must return to his garrison and so must marry her at once. Nemorino, dismayed by this turn of events, urges Adina to wait just one more day, but she spitefully ignores him and invites the entire village to the wedding.
Act II
Adina's house
Everyone is celebrating at the pre-wedding feast at Adinas house. Adina secretly wishes Nemorino had come so she could enjoy her revenge. Dulcamara sings a flirtatious duet with Adina ("Io son ricco e tu sei bella"), to great applause. Adina, still miffed at Nemorino's absence, goes off with Belcore and a notary to sign the marriage contract.
Nemorino arrives, fearing that he is too late to prevent the wedding. Seeing Dulcamara, he begs for another bottle of the magic elixir, but Dulcamara won't give it to him until he can pay for it. Nemorino throws himself on a bench in despair. Belcore now returns, annoyed that Adina has postponed the wedding until that evening. Seeing Nemorino, Belcore asks why he is so sad. Nemorino tells him that he is despondent because he has no money. Belcore advises him to join the army, where he can instantly earn 20 scudi. Nemorino is reluctant, but Belcore persuades him with a vision of the glories (and opportunities for winning the ladies) of being a military man. Nemorino enlists and takes the money, thrilled at the prospect of winning Adina. Belcore secretly plumes himself on having recruited his rival and getting him out of the way.
In the village, Giannetta tells her friends the exciting news that Nemorino's uncle has died and left him a fortune. Nemorino staggers in, having drunk the second bottle of "elixir." He suddenly finds himself the center of female attention, and, not knowing that he has become an eligible bachelor, believes that the elixir is finally working. Adina and Dulcamara arrive and are both astonished to see Nemorino surrounded by the village maidens and fully enjoying his new-found popularity. Adina angrily confronts him about joining the army, but Nemorino, enjoying her jealousy, goes off with a gaggle of girls. Dulcamara tells Adina that the magic elixir has made Nemorino popular, and that he joined the army in order to get the money to pay for it. Adina realizes that Nemorino's love is true. Dulcamara, seeing an opportunity to sell more elixir, tries to rouse her jealousy, but she vows to win him back her own way.
Alone, Nemorino recalls the tear on Adina's cheek and is convinced that she loves him ("Una furtive lagrima"). But when she arrives, he pretends to be disinterested, in order to get her to declare her true feelings. She asks him not to leave, and tells him that she has bought back his commission ("Prendi, prendi, per me sei libero"). But she still won't confess her love, so Nemorino vows to die a soldier. At last Adina tells him that she loves him and begs his forgiveness. Belcore arrives to find the lovers embracing. But he is confident that there are plenty of fish in the sea — and Dulcamara can help with his Elixir of Love.
© 1997 Linda Cantoni