THE MIKADO
by W.S. Gilbert (1836-1911)
and Sir Arthur Sullivan (1842-1900)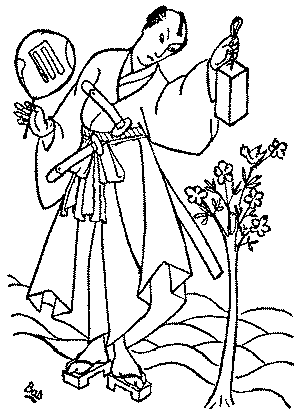 W.S. Gilbert's "Bab" illustration of Ko-Ko
in the "Tit-Willow" scene of The Mikado, c. 1885.
Comic opera in two acts; text by W.S. Gilbert; music by Sir Arthur Sullivan. First produced at the Savoy Theatre, London, March 14, 1885. First performance in the United States, July 6, 1885, at the Museum, Chicago.
| | |
| --- | --- |
| | |
| Sir William Schwenk Gilbert | Sir Arthur Sullivan |
Not without reason is this one of the most popular of the long line of "Savoy Operas," for Gilbert's text is a masterpiece of comic writing to which Sullivan's ever tuneful music is perfectly adapted, serving in a remarkable manner to set off the amusing character of the words. The Japanese setting supplies a refreshingly colorful background, although, of course the characters are by no means Japanese, but the Victorian British in a very thin disguise.
Mike Leigh's 1999 film Topsy-Turvy is an excellent dramatization of Gilbert and Sullivan's often troubled working relationship, and of how The Mikado came to be (though the singing leaves much to be desired). Please also visit The Gilbert & Sullivan Archive and its Mikado page for a wealth of information on this opera, including sound files, photos, illustrations, plot summaries, libretti, notes, and reviews. The Archive itself is a rich resource for all the Gilbert & Sullivan operas and just about everything related to Sir W.S. Gilbert and Sir Arthur Sullivan.
The Cast
The Mikado of Japan

Bass

Nanki-Poo

, his son, disguised as a wandering minstrel
Tenor

Ko-Ko

, Lord High Executioner of Titipu
Baritone

Pooh-Bah

, Lord High Everything Else
Baritone

Pish-Tush

, a noble lord
Baritone

Yum-Yum

, Ko-Ko's ward
Soprano

Pitti-Sing

, her sister
Mezzo-Soprano

Peep-Bo

, another sister
Soprano

Katisha

, a middle-aged lady, betrothed to Nanki-Poo
Contralto
Gentlemen, schoolgirls, citizens, guards, servants.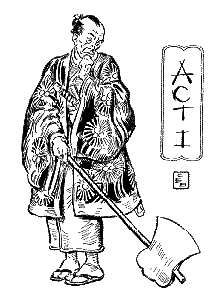 After the captivating overture composed of some of the choicest melodies from the opera, the curtain rises on the courtyard of Ko-Ko's palace at Titipu. Japanese nobles who are gathered there sing a lively chorus.
Nanki-Poo enters excitedly, carrying a native guitar and a bundle of ballads. He asks to be directed to the maiden Yum-Yum, the ward of Ko-Ko. In turn the nobles ask his own identity. He replies with the song, "A Wandering Minstrel I." He offers them his wares, that is, his songs — sentimental, patriotic or nautical.
Pish-Tush asks his business with Yum-Yum. Nanki-Poo replies that a year ago he saw Yum-Yum and immediately fell in love with her, but at that time she was betrothed to her guardian, Ko-Ko. Now, having heard that Ko-Ko is condemned to death for flirting, he has come to see Yum-Yum. Pish-Tush replies that Ko-Ko has been pardoned and made Lord High Executioner; this happened under the remarkable circumstances he relates in the song, "Our Great Mikado."
Thereupon, the Lord High Everything Else, Pooh-Bah, enters and, singing the song, "Young Man, Despair," tells him to give up hope, for Yum-Yum is to marry Ko-Ko this very day. Nanki-Poo's lament is cut short by the arrival of Ko-Ko himself, entering in state with his attendants who sing the rousing chorus "Behold the Lord High Executioner!"
Thanking them for their reception, he sings the amusing song, "I've got a little list of society offenders who might well be underground" — possibilities for his own professional employment! Soon there enters a procession of Yum-Yum's school-mates singing their girlish chorus "Comes a train of little ladies from scholastic trammels free." Immediately after appears Yum-Yum herself with her two sisters, Peep-Bo and Pitti-Sing, "Three little maids from school." The girls happen to offend the haughty Pooh-Bah, so are obliged to beg his pardon, singing "So please you, sir, we much regret if we have failed in etiquette."
Then all depart, save Nanki-Poo and Yum-Yum. The young man at once declares his love and reveals to Yum-Yum that he is none other than the son of the Mikado. He has assumed this disguise in order to avoid marrying an elderly lady of the court, Katisha, who has claimed him. The couple sing their duet, "Were you not to Ko-Ko plighted," saying that if Yum-Yum were not engaged to Ko-Ko they would loudly kiss one another, and audibly demonstrate how it would be done. Then each goes away sorrowfully.
Pooh-Bah and Pish-Tush enter with a letter for Ko-Ko from the Mikado who, struck by the fact that no one has been beheaded in Titipu for a year, threatens to abolish the office of Lord High Executioner unless somebody is executed within a month. In the trio they sing, "I am so proud," each of the men declines the honor of decapitation, Ko-Ko because of his duty to Titipu, Pooh-Bah because he must mortify his family pride, and Pish-Tush really doesn't greatly care. Curiously enough, at this moment Nanki-Poo enters, carrying a rope with which he intends to hang himself for sorrow at the loss of Yum-Yum. Ko-Ko suggests that Nanki-Poo allow himself to be executed instead. After some argument Nanki-Poo consents, on condition that he be permitted to marry Yum-Yum at once — the execution to be a month later.
Ko-Ko reluctantly agrees. The nobles and ladies enter to learn the decision, Ko-Ko announces that Yum-Yum is to marry Nanki-Poo, and all rejoice, singing merrily "The threatened cloud has passed away." Suddenly the dreaded Katisha appears, declaring melodramatically, "Your revels cease." She balefully claims Nanki-Poo her own, but Pitti-Sing laughing replies that they are not concerned with her connubial views.
The tottering and wicked Katisha then turns to Nanki-Poo, declaring: "Oh, faithless one . . . I'll tear the mask from your disguising!" But as soon as she begins her denunciation, "He is the son of your..." Nanki-Poo, Yum-Yum, and the chorus interrupt, singing Japanese words loudly and drowning out her voice. Thus repeatedly foiled, Katisha furiously vows vengeance, while all the others sing merrily, "For joy reigns everywhere around!"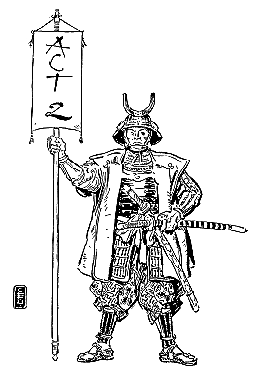 Yum-Yum is attended by her maidens who, while preparing her for the wedding, sing the graceful chorus, "Braid the raven hair," and Pitti-Sing interpolates a short solo, "Sit with downcast eye.... Try if you can cry." Yum-Yum, gazing in the mirror, is thrilled by her own loveliness and expresses her appreciation of it.
Reminded that her married happiness is to be "cut short," Yum-Yum bursts into tears; Nanki-Poo enters and tries to console her. With a forced, melancholy laugh, Yum-Yum, Pitti-Sing, Nanki-Poo, and Pish-Tush attempt a cheerful quartet, "Brightly dawns our wedding day," but each time their "Sing a merry madrigal-Fal-la!" ends in sorrow.
Their unhappiness is further augmented when Ko-Ko enters with the exciting news that a law has just been discovered which decrees that when a married man is beheaded his wife is to be buried alive. So far the law has never been put into force, for the only crime punishable with decapitation is flirting, and of course, married men never flirt.
Yum-Yum complains that burial alive is such a stuffy death: yet if Nanki-Poo releases her she will have to marry Ko-Ko. With reason do they break into the incomparable Trio, "Here's a how-de-do!" A moment later the stately Japanese melody played at the opening of the overture is heard, and a procession enters, singing Japanese words, "Miya sama," announcing the arrival of the Mikado, who enters, accompanied by Katisha, "His daughter-in-law elect."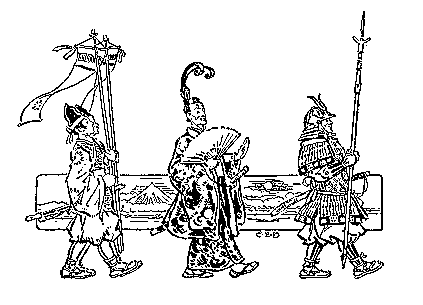 The Mikado introduces himself with the song, "A more humane Mikado never did in Japan exist." His object is to "let the punishment fit the crime."
Pooh-Bah now comes forward to assure the Mikado that his wishes have been respected, the execution has just taken place; Ko-Ko, Pitti-Sing, and Pooh-Ball describe it graphically in their song, "The criminal cried." Although the Mikado is gratified at the news, this was not the purpose of his coming; he really is seeking his son, who is reputed to be in Titipu, disguised under the name of Nanki-Poo.
At this moment Katisha, who is reading the death certificate, finds the name there — Nanki-Poo beheaded! Ko-Ko, Pooh-Bah, and Pitti-Sing pretend to be dismayed to think that they have executed the Heir Apparent. The Mikado reminds them that they will have to be punished for this; he is not the least angry, but the laws decree that "compassing the death of the Heir Apparent," they shall be punished by boiling in oil, or by some similar protracted torture. Such is the injustice of Fate, of which they sing in the Glee, "See how the Fates their gifts allot."
The Mikado and Katisha go away, and while the trio remain cursing their ill-luck, Nanki-Poo and Yum-Yum appear, ready to start on their honeymoon. The unlucky trio attempt to persuade Nanki-Poo to "come back to life," but the Prince, wishing to be free of Katisha, refuses unless Ko-Ko will himself marry her; then, he says, life will be as welcome as "The flowers that bloom in the spring." But Ko-Ko's response is, "Bother the flowers of spring!"
All go out and Katisha enters, sadly bemoaning that she is "Alone, and yet alive!"
To her now comes Ko-Ko, declaring a passionate love for her. When she sternly refuses him, he sings the pathetic story of a bird's unhappy affection, "Willow, tit-willow." Katisha is so moved by his song and his threatened death from a broken heart that she yields, and even asks if he does not mind that she is the least wee bit bloodthirsty. Ko-Ko finds beauty even in bloodthirstiness, and the two sing their duet, "There is beauty in the bellow of the blast," then go away together joyfully. The Mikado now enters ready to behold the execution of the three culprits.
A moment later they rush in, but Katisha is with them, and implores mercy for she has married Ko-Ko. The Mikado hesitates since the law must be enforced. The situation is saved by the appearance of Nanki-Poo whose non-execution is marvelously explained, all then taking their turns in the exhilarating finale, "For he's gone and married Yum-Yum!"
Plot summary adapted by Linda Cantoni from The Victor Book of the Opera (RCA Manufacturing Co., Camden, NJ, 1936).