I PAGLIACCI
Music and libretto by Ruggero Leoncavallo
(1857-1919)
Possibly based on La Femme de Tabarin by Catulle Mendès
March 1, 2, 8, and 9, 2014, at 3 PM
OLPH Catholic Academy of Brooklyn
Conducted by Scott Jackson Wiley
Staged by Linda Lehr
Performed in Italian with English supertitles
---
READ THE BUZZ ABOUT I PAGLIACCI
---
Kudos for our March 2014 I Pagliacci:

"[P]erformances at Regina Opera's most recent show draw standing ovations and bravos.... Saturday afternoon's performance delivered an outstanding version of this internationally renowned opera."
Cliff Kasden, Home Reporter

"The great Arturo Toscanini, who conducted the world premiere, would have been pleased to see such a gripping performance here in Brooklyn."
Nino Pantano, Brooklyn Daily Eagle
---
The Cast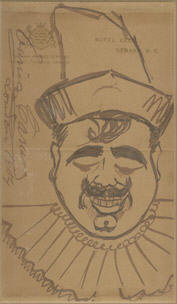 Enrico Caruso's caricature
of himself as Canio, 1904
Canio

(in the play Pagliaccio), head of a troupe of strolling players
Paolo Buffagni (Mar. 1 & 9)
Michael Morrow (Mar. 2 & 8)

Nedda

(in the play Colombina), Canio's wife
Christina Rohm (Mar. 1 & 9)
Elana Gleason (Mar. 2 & 8)

Tonio

(in the play Taddeo), a player
Ricardo Rosa (Mar. 1 & 9)
Isaac Grier (Mar. 2 & 8)

Beppe

(in the play Arlecchino), a player
Gregory Couba (Mar. 1 & 9)
Brian Ribeiro (Mar. 2 & 8)

Silvio

, Nedda's lover
Scott Lefurgy (Mar. 1 & 9)
Julian Whitley (Mar. 2 & 8)

Villager 1

Larry Beers

Villager 2

Daniel Kerr
Covers

Nedda: Jennifer Groves; Silvio: Nicholas Connolly; Beppe: Daniel Kerr; Villager 2: Wayne Olsen
The Story
I Pagliacci (The Clowns) is set in a village in Calabria, Italy, in the late 1860s.
Prologue
Tonio the clown pokes his head through the curtain to greet the audience. What will follow is not merely a play, he says — it is a slice of real life, of love, hate, pain, anger, and mocking laughter. He begs the audience to look beyond the theatrics into the hearts of the actors, human beings of flesh and blood who live and breathe just like them. And the story begins...
Act I
The village piazza
It is 3 o'clock on a hot August afternoon, and the townspeople are excited about the arrival of a traveling theater troupe. Canio, the head of the troupe, can barely make himself heard over the crowd, so he beats a huge bass drum to get their attention. Canio announces a grand show at 11:00 that night, featuring the travails of Pagliaccio (Canio's starring role) and the intrigues of the scheming Taddeo (played by Tonio). The villagers can hardly wait. Canio, playing for laughs, delights the crowd when he slaps Tonio for paying too much attention to Nedda, Canio's wife and the leading lady of the troupe. Tonio stomps off into the theater, muttering threats. A group of villagers invites Canio to have a drink with them at the tavern. Beppe, another member of the troupe, is coming along, too. But when Canio invites Tonio to join them, he refuses, saying he has to groom the donkey. A villager jokingly warns Canio that Tonio might be staying behind to flirt with Nedda. But Canio doesn't think that's funny. The theater and life are not the same thing, he warns. Maybe it's amusing to see Pagliaccio catch his wife in flagrante delicto with a young gallant and then get a beating; but if he should ever catch Nedda in that position in real life, the story would end very differently. Nedda is very troubled by this angry statement. The villagers, however, don't believe that he's serious. Canio, realizing that he has lost his composure, tells them that he was only joking, and that he adores his wife. Bagpipers and church bells are heard in the distance; it is time for vespers. Canio reminds the villagers to come to the show at 11 o'clock, then goes off for his drink with a few of the village men. The others indulge in a folk-dance, then go off to church.
Nedda reappears, recalling how angry Canio looked, and worrying that he might have discovered her secret. She shakes off these troublesome thoughts and, stirred by desire, languorously enjoys the mid-August sun. When she sees a flock of birds flying overhead, she recalls how her mother could understand their songs, and envies them their freedom to soar ("Stridano lassù").
Nedda catches Tonio spying on her. He tries to woo her, but she mocks him. He begs her not to laugh at him; he knows he is a hunchback, but he has desires, too. He is about to tell her that he loves her, but she interrupts him with a laugh, and tells him that he'll have the chance to tell her of his love that night at the performance, when he plays the fool. He tries to force her to listen, but she breaks away and threatens him with a whip. He swears to make her his, but when he tries to force a kiss on her, she hits him with the whip. He stumbles away, vowing revenge.
Silvio arrives, and it is immediately apparent that he is Nedda's secret lover. She chides him for his imprudence, but he knows they will be safe, because Canio and Beppe are at the tavern, and he is sure no one has seen him coming. She tells him that he almost ran into Tonio. He dismisses Tonio as a harmless fool. Nedda, however, warns Silvio that Tonio could be dangerous, as he has just declared his love for her, and she had to drive him off with a whip. Silvio does not want her to live with these anxieties. He begs her to run away with him, reminding her that Canio never loved her and that she hates the life of a traveling performer. Nedda begs him not to tempt her into ruining her life for a mad dream. Tonio arrives, unseen by the lovers, just as Silvio accuses Nedda of not loving him anymore. Thrilled at having caught Nedda, Tonio sneaks off. Nedda reassures Silvio and finally gives in to him. As they share a passionate kiss, Tonio arrives with Canio, who can barely contain himself. Silvio urges Nedda to meet him that night. She agrees, and vows to be his forever: "A stanotte e per sempre tua sarò."
Canio can no longer stand it. He flies at Silvio, who escapes into the bushes, with Canio in hot pursuit. Tonio laughs at Nedda's discomfiture. And he keeps laughing even after she tells him that he disgusts her. Canio returns and demands that Nedda tell him her lover's name. She refuses, even when he threatens her with his dagger. Beppe arrives just in time. He takes the knife away from Canio and reminds him that they must get ready for the show. Nedda rushes off to change into her costume. Tonio promises to keep an eye on the lovers and suggests that the man might come to the show. Beppe and Tonio leave to get ready.
Alone, Canio despairs of being able to perform under such a strain. But then he remembers that he is a clown. He must put on his costume and makeup to please the crowd, and he must laugh, even as his heart is breaking ("Vesti la giubba").
Act II
The theater
The show is about to begin. The villagers noisily crowd into the theater, and Silvio slips in with them. At last the curtain goes up. Colombina, played by Nedda, is restlessly waiting for someone, as her husband, Pagliaccio, will be out until late. When she hears someone playing a guitar outside, she joyfully goes to the window and sees Arlecchino (played by Beppe) serenading her ("O Colombina, il tenero fido Arlecchin"). This is what she has been waiting for. Meanwhile, Taddeo, played by Tonio, peaks through the door and admires Colombina's beauty. He has brought a chicken for her. He tries to make love to her, but she rebuffs him. Taddeo goes on and on about Colombina's chastity. Arlecchino sneaks up on him and kicks him out, to the enthusiastic laughter and applause of the crowd.
Colombina and Arlecchino sit down to a cozy dinner for two. Arlecchino has brought a drug for Colombina to give Pagliaccio; while he is sleeping, they can elope. Taddeo, shaking with terror, breaks in to warn them that Pagliaccio is on the way, then he hides. Canio, as Pagliaccio, arrives just in time to hear Colombina say almost exactly what Nedda had said earlier to her lover: "A stanotte... E per sempre io sarò tua." Pulling himself together, he steps onstage to play the cuckolded husband. With difficulty, Pagliaccio accuses Colombina of infidelity, and drags Taddeo out of his hiding place. When Taddeo protests that Colombina is pure, Canio can no longer restrain himself. He breaks character and demands the name of Nedda's lover. Desperately trying to stay in character, Nedda reminds him that he is Pagliaccio. But Canio tears off his comic wig. He is not Pagliaccio; he is the man who rescued her from the streets, when she was an orphan dying of hunger, the man who gave her a home and love. The crowd, believing this to be part of the play, comments on how realistic the acting is. Silvio, understanding that it is real, can hardly stand it. Canio goes on, remembering how he had hoped that if Nedda could not love him, she would at least pity him and be kind to him. But now he sees that her soul is depraved, and that she is a worthless whore. The crowd goes wild at this bravura performance. But Nedda finds the courage to face him down, and tells him to send her away if he thinks she is not worthy of him. Canio laughs cynically at her clever attempt to get what she really wants and run away with her lover. He again demands the man's name. But Nedda tries to defuse the situation by returning to the play. As Colombina, she explains that she was only having dinner with the harmless Arlecchino. The audience laughs, but quickly stops when they see the look on Canio's face. He again demands that she tell him the name. Nedda absolutely refuses, and at last the audience understands that this is real. Nedda tries to run offstage, but Canio grabs her and plunges a knife into her. As she falls dying, she calls out for Silvio. He tries to get to her but is intercepted by Canio, who stabs him in the heart and cries out, "La commedia è finita" ("The comedy is over").
© 2003 Linda Cantoni