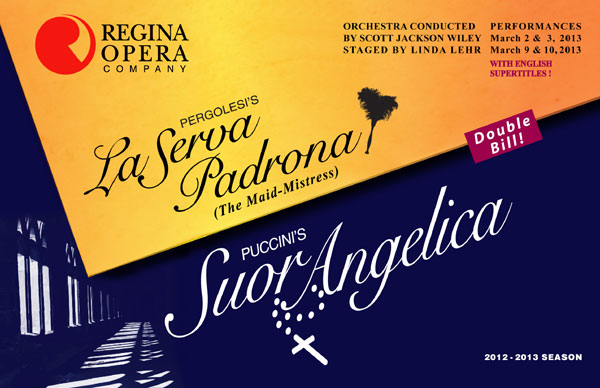 LA SERVA PADRONA
SUOR ANGELICA
Conducted by Scott Jackson Wiley
Staged by Linda Lehr
Performed in Italian with English supertitles
---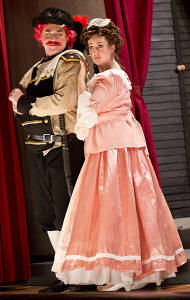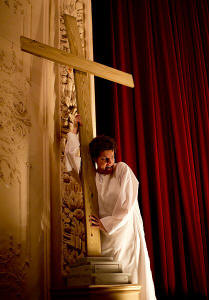 What the critics said about La Serva Padrona and Suor Angelica:
Brooklyn Daily Eagle — "an afternoon to treasure"
Home Reporter — "consistently high caliber entertainment"
Read more about it in
The Brooklyn Spectator
---
Uberto

, a wealthy old bachelor
John Schenkel (Mar. 2 & 10), David Tillistrand (Mar. 3 & 9)

Serpina

, his maid
Christa Hylton (Mar. 2 & 10), Jenny Ribeiro (Mar. 3 & 9)

Vespone

, his servant
Stephen Ryan (Mar. 2 & 10), Brian Ribeiro (Mar. 3 & 9)
Cover: Serpina - Patricia Vital
Uberto's home.
Scene 1.
Wealthy old Uberto has been waiting three hours for his maid, Serpina, to bring him his morning chocolate. He calls for her in vain; not even his servant Vespone will help. Uberto is convinced that, by treating Serpina well, he has spoiled her, so that now instead of the maid, she thinks she is the mistress.
Serpina, who has overheard all this, comes in and pretends to berate Vespone, demanding to be treated with the respect due to the highest mistress. When Uberto attempts to intervene, she begins to beat Vespone. Uberto orders her to stop and demands to know why she hasn't brought his chocolate, when she knows that he's in a hurry. She tells him that it's too late for chocolate. Uberto rails against her contrary ways and declares that they must cease.
Serpina demands to know whether, in return for all her care, she deserves to be mistreated. When he calls for his hat and cane so he can go out, Serpina refuses to allow it — in fact, she has locked the door and taken the key. Uberto sarcastically calls upon Vespone to witness his debasement. He then orders Vespone to find him a wife. Serpina approves — if she is the wife. Uberto is outraged, but Serpina is confident that he will give in.
Scene 2.
Serpina promises Vespone, who is disguised as a soldier, that if their plan to get Uberto to marry her succeeds, Vespone will be the second master of the house. He hides. Uberto appears, dressed to go out, and sarcastically seeks Serpina's permission to leave the house. In response, she chides him for getting dressed without her permission, which infuriates him, but he continues his sarcastic requests to be permitted to leave.
Serpina tells Uberto that she is tired of this game and that she has found herself a husband. He is "Captain Tempest," a soldier whose personality matches his name. Uberto warns her that if she behaves with her husband the way she behaves with him, she'll have a "tempest" of a beating. But Uberto would be sorry for it, because despite everything, he wishes her well. Serpina hopes that he will remember her fondly, and asks his forgiveness — and secretly gloats that he is softening up.
Serpina asks if Uberto would like to meet her new husband. He agrees, and while she is out getting him, Uberto pities her even more and wonders if he should marry her himself. Serpina returns with "Captain Tempest" — Vespone in disguise. He is even fiercer-looking than Uberto imagined, and only nods in response to Uberto's questions. Serpina informs Uberto that "Captain Tempest" demands a dowry. When Uberto refuses, "Captain Tempest" makes menacing gestures at him. Uberto then asks how much he wants; the sum is 4,000 scudi. Uberto is outraged, but must retreat when "Captain Tempest" waves his sword about. Uberto calls for Vespone in vain. Serpina tells Uberto that if he won't give her a dowry, the Captain won't marry her — Uberto must marry her instead. Under renewed threats from the Captain, Uberto agrees. Serpina has Uberto solemnize it by giving her his right hand in the Captain's presence. She then reveals that the Captain is Vespone. Uberto flies into a rage, but Serpina reminds him that it's no use — she is now his wife. Uberto relents, and they declare their love for each other.
© 2012 Linda Cantoni
---
Suor Angelica

, a former noblewoman, now a nun
Melanie Henley Heyn (Mar. 2 & 10), Lisa Flanagan (Mar. 3 & 9)

La Principessa

, her aunt
Leonarda Priore (Mar. 2 & 10), Melissa C. Kelly (Mar. 3 & 9)

The Abbess

Miriam Levenson (Mar. 2 & 10), Jessica Lynn French (Mar. 3 & 9)

The Monitress

Elizabeth Mondragon (Mar. 2 & 10), Heather Roberts (Mar. 3 & 9)

Mistress of the Novices

Elizabeth M. Moulton (Mar. 2 & 10), Hannah Kramer (Mar. 3 & 9)

Sister Genovieffa

Patricia Vital (Mar. 2 & 10), Christina Hourihan (Mar. 3 & 9)

Sister Osmina

Caroline W. Moore (Mar. 2 & 10), Catherine Greco (Mar. 3 & 9)

Sister Dolcina

Lisa Bryce (Mar. 2 & 10), Page Lucky (Mar. 3 & 9)

The nursing sister

Elena Sandella (Mar. 2 & 10), Traci Djonne Schanke (Mar. 3 & 9)

First Alms Sister

Lindsey Blackhurst (Mar. 2 & 10), Lidia Luciano (Mar. 3 & 9)

Second Alms Sister

Jennie Mescon (Mar. 2 & 10), Jennie Legary (Mar. 3 & 9)

A novice

Jasmine Jones (Mar. 2 & 10), Stefanie Lamm (Mar. 3 & 9)

Two lay sisters

Nicole Leone, Olesya Rudik (Mar. 2 & 10), Yoko Yamashita, Alexis Thomason (Mar. 3 & 9)

Sister Lucille

Shelly Sharon Barkan

Madonna

Christina Hourihan (Mar. 2 & 10), Nicole Leone (Mar. 3 & 9)

Child

Nomi Joel Barkan (Mar. 2 & 10), Liam Samples (Mar. 3 & 9)
Covers: Suor Angelica - Stacey Canterbury; Princess - Jessica Lynn French; Abbess - Laura Smith; Sister Genovieffa - Page Lucky
A cloistered convent.
Sister Angelica and two lay sisters have been late for chapel. Angelica has already done her penance, so the mistress of the novices imposes one on the lay sisters. The Monitor then chides some of the other sisters for minor transgressions, but allows the nuns to have some relaxation time in the garden before they must return to their labors. They enjoy the sight of the late afternoon sunlight falling upon the fountain.
The sisters' talk turns to their lingering desires for the worldly pleasures they used to enjoy. Sister Angelica denies that she has any such desires, but the others know that she is lying, for she longs for some news of her family. She has been at the convent for seven years without hearing from them, and the sisters believe that she is a princess who was sent to the convent as a punishment for some mysterious transgression.
Their speculations are interrupted when a nursing sister rushes in and asks Sister Angelica, who is expert in such matters, for an herbal remedy to treat another nun who has been stung by a wasp. Then two alms-collecting nuns arrive with provisions. One of them announces that a rich-looking carriage is standing outside the convent gate. Angelica becomes anxious and asks her to describe the carriage in detail, but the nun can only say that it was very fine. The convent bell rings; Angelica begins to pray. The other nuns pity Angelica's anxiety and tell her that they hope it is a visit from her family.
The Abbess enters and calls for Angelica, who begs to know who the visitor is. The Abbess commands her to calm herself. Angelica kneels to regain her composure. The Abbess then tells Angelica that her aunt, the Princess, has come to see her.
The Princess enters and, ignoring Angelica's gestures of affection, immediately gets down to business. When Angelica's parents died, the Princess became the guardian and trustee for Angelica and her younger sister, Anna Viola. Now Anna Viola is to be married, and the Princess demands that Angelica sign her inheritance over to her sister. When Angelica asks who her sister's husband is, the Princess cruelly replies that he is one who is willing to overlook the disgrace that Angelica brought on the family. When Angelica accuses her of being hard-hearted, the Princess excoriates her and urges her to atone. Angelica replies that she has atoned by devoting herself to the Virgin Mary, but that she cannot forget her little son. She begs the Princess to tell her how he is. When the Princess does not answer, Angelica threatens that she will be damned for eternity. The Princess finally answers that two years before, he became seriously ill, and that everything was done to try to save him. Angelica, realizing that he is dead, falls to the ground, sobbing. Her aunt makes a gesture of compassion, but checks herself and prays instead. Angelica rouses herself and signs the document. The Princess takes it and leaves without a word.
Angelica grieves that her baby died without his mother to comfort him ("Senza mamma"). She can feel his presence and prays to die so that she can be with him. The nuns find her in a mystical transport of joy, for, she says, the Virgin's grace has descended upon her. When they leave, she prepares an herbal poison for herself. She bids the convent farewell, for her son has called to her and she will join him in Heaven.
Angelica drinks the poison, but immediately regrets it, realizing that suicide is a mortal sin. She calls upon the Virgin for salvation. A celestial choir is heard praising the Virgin, who miraculously appears with Angelica's child. The child approaches Angelica, who dies at his feet.
© 2012 Linda Cantoni