DON GIOVANNI
Music by Wolfgang Amadé Mozart
(1756-1791)
Libretto by Lorenzo da Ponte
(1749-1838)
Based on the legends of Don Juan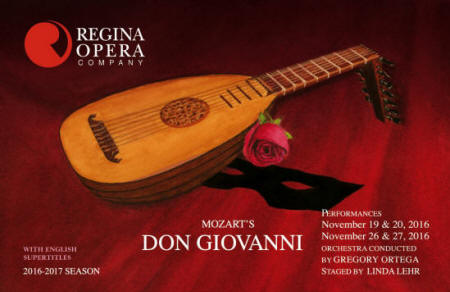 Performances: November 19, 20, 26, and 27, 2016, at 3 PM
OLPH Catholic Academy, 5902 6th Ave., Brooklyn
Conducted by Gregory Ortega; staged by Linda Lehr
Performed in Italian with English supertitles
Free Sneak-Peek Performance with piano, November 15, 2016, at 7:30 PM
---
"Melodious magic at Regina Opera"—Cliff Kasden, The Brooklyn Spectator News

"A truly vocally gripping and visually stunning Don Giovanni!"—Nino Pantano, Brooklyn Discovery
---
The Cast
Don Giovanni, a nobleman: Nathan Matticks (Nov. 19 & 27), Andrew Cummings (Nov. 20 & 26)
Leporello, his servant: Luis Alvarado (Nov. 19 & 27), Antoine Hodge (Nov. 20 & 26)
Donna Anna, a noblewoman: Christina Rohm (Nov. 19 & 27), Alexis Cregger (Nov. 20 & 26)
Don Ottavio, her betrothed: Christopher Nelson (Nov. 19 & 27), Alexey Kukharskiy (Nov. 20 & 26)
Donna Elvira, a lady of Burgos: Zhanna Alkhazova (Nov. 19 & 27), Heather Roberts (Nov. 20 & 26)
Zerlina, a peasant girl: Hannah Stone (Nov. 19 & 27), Mizuho Takeshita (Nov. 20 & 26)
Masetto, her betrothed: Jonathan Hare (Nov. 19 & 27), Gennady Vysotsky (Nov. 20 & 26)
Il Commendatore, Anna's father: Antoine Hodge (Nov. 19 & 27), Steven Fredericks (Nov. 20 & 26)

November 15 Sneak Peek Performance Cast

Don Giovanni: Nathan Matticks; Leporello: Luis Alvarado;
Donna Anna: Abigail Mitchell*; Don Ottavio: Thomas Massey*;
Donna Elvira: Angela-Aida Carducci*; Zerlina: Kember Lattimer*;
Masetto: Jonathan Hare; Commendatore: Rick Agster*

*cover
---
The Story
Don Giovanni is set in Seville in the mid-17th Century.
Act I
Scene 1. A street outside the Commendatore's house.
Leporello, servant to Don Giovanni, impatiently waits for his master outside Donna Anna's house, where Don Giovanni is attempting to seduce the lady. Suddenly, Don Giovanni and Donna Anna appear, struggling. Anna unsuccessfully tries to discover his identity. Her father, the Commendatore, appears and challenges Don Giovanni to a duel; Anna runs to get help. Don Giovanni, at first reluctant, accepts the challenge, and kills the old man. Leporello and Don Giovanni escape. Donna Anna returns with her betrothed, Don Ottavio, to find her father dead, and makes Ottavio swear to avenge her father's death.
Scene 2. The next day.
Leporello, having made Don Giovanni promise not to punish him for speaking freely, tells him that his life is scandalous. When Don Giovanni becomes angry, Leporello changes the subject to Don Giovanni's "catalogue" of women. As Don Giovanni tells of his latest flame, Donna Elvira appears. The men, not recognizing her, hide as she rages at her betrayal at the hands of a scoundrel ("Ah! chi mi dice mai"). When Don Giovanni, pleased at the prospect of another conquest, approaches to comfort her, she recognizes him as the man who married and abandoned her. As she berates him, the dismayed Don sneaks off, and Leporello, explaining to her that she's not the only one, displays the catalogue to her ("Madamina, il catalogo è questo").
Scene 3. The countryside near Don Giovanni's castle.
A group of peasants are celebrating the wedding of Zerlina and Masetto. Don Giovanni and Leporello admire the girls; Don Giovanni is very interested in Zerlina. He invites everyone to enter his castle to eat and drink. But he detains Zerlina, to the annoyance of the jealous Masetto, who is finally persuaded to go with the others. Don Giovanni promises to marry Zerlina ("Là ci darem la mano"). Seduced, Zerlina agrees, but Donna Elvira reappears, warns the girl against him, and takes her away.
Donna Anna and Don Ottavio arrive. Not realizing that Don Giovanni is the man who murdered her father, Anna seeks his help. Donna Elvira returns and tries to tell the others what kind of man he really is, but Don Giovanni tells them that Elvira is mad and takes her away. But Donna Anna has realized, from his voice, that Don Giovanni was her attacker. She tells Don Ottavio what happened to her on the night her father was killed and again begs him to seek vengeance ("Or sai, chi l'onore"). Ottavio, left alone, reflects on his love for her ("Dalla sua pace").
Don Giovanni and Leporello reappear. Leporello tells him how he got the villagers drunk and managed to lock Elvira out of the house to boot. Don Giovanni, highly pleased, orders a huge party ("Finch'han del vino") and goes off to prepare for it. Masetto stalks into the garden, ignoring Zerlina's entreaties and accusing her of infidelity. She urges Masetto to beat her if he wants, as long as they make up ("Batti, batti, o bel Masetto"). Masetto relents, but when they hear Don Giovanni approaching, Zerlina becomes agitated and Masetto, suspicious, hides to watch them together. Don Giovanni renews his attentions and tries to draw her aside into the very place where Masetto is hiding. The Don, quickly recovering from his surprise, blithely explains to Masetto that Zerlina missed her husband, and takes the couple off. Donna Anna, Don Ottavio, and Donna Elvira enter, masked, intending to expose Don Giovanni to everyone. Don Giovanni and Leporello, not recognizing them, invite them to the party.
Scene 4. Inside Don Giovanni's castle.
As the guests dance, Don Giovanni continues his advances to Zerlina. He heartily welcomes the masked trio. He dances with Zerlina; Leporello grabs Masetto and forces him to dance, allowing Don Giovanni to drag Zerlina away. When Zerlina's screams are heard, Masetto and the others rush to find her, but Don Giovanni re-enters and tries to pretend that Leporello is the culprit. Don Ottavio, Donna Anna, and Donna Elvira unmask and threaten Don Giovanni, who keeps them at bay with his sword. Using Leporello as a shield, Don Giovanni escapes.
Act II
Scene 1. A courtyard outside Donna Elvira's house.
Leporello threatens to leave Don Giovanni, but is persuaded to stay with a purse of money. Don Giovanni has a plan: Leporello is to pretend to be him and entice Elvira away, leaving Don Giovanni, dressed as Leporello, free to seduce her maid. They exchange clothes. When Elvira appears, Don Giovanni hides behind Leporello and serenades her. Elvira agrees to come to him. Don Giovanni hides as Leporello clumsily makes love to her. Don Giovanni then leaps out, pretending to be a robber, and the pair run off. Don Giovanni then serenades the maid ("Deh vieni alla finestra"), but is forced to hide when Masetto and some armed villagers come looking for him. Pretending to be Leporello, Don Giovanni approaches and tells them that he has left his master, and sends them off in all directions to find him. Alone with Masetto, Don Giovanni tricks him into handing over his weapons, and then thrashes him and runs off, leaving Masetto groaning on the ground. Zerlina appears, comforts him, and takes him home ("Vedrai, carino").
Leporello and Elvira return; he is trying to find a way to escape her. Just as he finds the courtyard door, Ottavio and Anna enter, followed by Zerlina and Masetto. Thinking he is Don Giovanni, they corner him while Elvira begs them to spare him. Desperate, he reveals himself to the astonishment of all. As they advance on him, he begs for mercy but manages to flee. Don Ottavio urges the others to comfort Anna while he seeks revenge ("Il mio tesoro"). Elvira, left alone, laments her betrayal ("Mi tradì quell'alma ingrata").
Scene 2. A graveyard.
Don Giovanni laughingly relates his recent adventures to Leporello. Suddenly, a ghostly voice says that his mirth will soon end. Leporello, frightened, notices a statue of the Commendatore, on which is inscribed a vow of vengeance on his murderer. Don Giovanni brazenly orders the terrified Leporello to invite the statue to supper. The statue accepts.
Scene 3. Don Giovanni's dining room.
Don Giovanni orders the orchestra to play as he dines, while Leporello sneaks food from the table. Donna Elvira bursts in and begs Don Giovanni to change his ways, but he merely invites her to eat. As she leaves, she suddenly stops at the door, screams, and runs out another door. Don Giovanni orders Leporello to go and see what was there. Leporello does so, and returns stammering about a man of stone knocking at the door. The Commendatore's statue appears and announces that he has come for supper. Don Giovanni offers his hospitality as Leporello hides. The statue refuses mortal food, but invites Don Giovanni to sup with him. Don Giovanni accepts, giving the statue his hand as a promise, but finds himself trapped. The statue demands that Don Giovanni repent, but he refuses, and is dragged off to Hell as a chorus of demons condemns him.
Ottavio, Anna, Elvira, Zerlina, and Masetto now arrive to confront Don Giovanni. Leporello brokenly explains what has happened. Donna Anna agrees to marry Don Ottavio; Donna Elvira will retire to a convent; Zerlina and Masetto will go home to eat; and Leporello will go to the inn to find a new master. The moral of the story: He who lives wickedly will die wickedly.
© 1996 Linda Cantoni